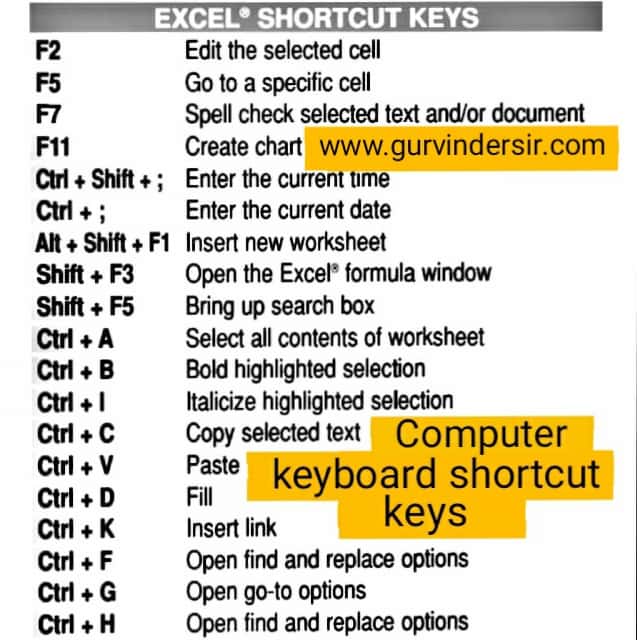 ❤️ Add to Favorites
Computer keyboard shortcut keys
Computer keyboard shortcut keys are designed to make routine computer functions quicker and easier. The only problem is that many of these have gone unnoticed by the average user. By using simple keyboard and computer shortcuts in the workplace, you can increase your productivity and cut back on the strain caused by repetitive motions.
Most shortcuts serve to eliminate additional steps that might involve your mouse or selecting extra menus. While this is by no means an exhaustive list, these shortcuts are some of the most common ones you'll regularly use. The shortcuts below apply specifically to PC users:
Topic :
• Basic Shortcut Keys
• Microsoft Windows Shortcut Keys
• Winkey Shortcuts
• Word Shortcut Keys
• Excel Shortcut Keys
• Outlook Shortcut Keys
PDF File Size – 2 MB
---
More Notes...
B.Ed Lesson Diary Biology Notes CBSE Notes
Chemistry Notes कम्प्यूटर नोट्स Current Affairs
E-Books Economics Notes Education News
English Notes Geography Notes Govt Jobs
Govt Exam Notes Hindi Notes History Notes
indian Army Notes Maths Notes Model Paper
NCERT Notes Physics Notes Police Exam Notes
Politics Notes Old Papers Psychology Notes
Punjabi Notes RAJ CET Rajasthan Geography
Rajasthan History Science Notes RBSE Notes
REET, 2nd,1st Grade RS-CIT RAS,UPSC,IAS Exam
10th & 12th Notes Syllabus UGC-NET Notes
UP PET Notes आज का इतिहास Great Man बायोग्राफी
---
अधिक जानकारी के लिए आप हमसे संपर्क कर सकते है... +919610571004 (☎ & WhatsApp)
---