राजस्थान की मध्यकालीन प्रशासनिक व्यवस्था || महत्वपूर्ण प्रश्न-उत्तर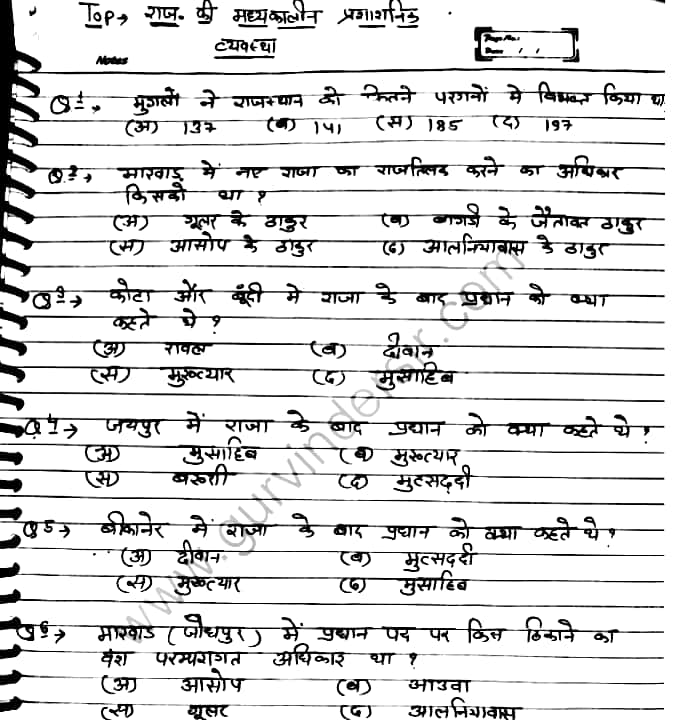 ❤️ Add to Favorites
Rajasthan History || राजस्थान की मध्यकालीन प्रशासनिक व्यवस्था || महत्वपूर्ण प्रश्न-उत्तर
Hindi Medium
Hello Dear www.EducationLib.com followers, In this post we are going to share an important PDF which is very useful for each and every competitive exam in Rajasthan. At this platform we share Handwritten class notes and Free Study material for Competitive exams UPSC IAS, RAS, SSC CGL, IBPS PO, SBI PO, Police Constable & Railway Exams.
Topic:
• राजस्थान की मध्यकालीन प्रशासनिक व्यवस्था पर महत्वपूर्ण प्रश्न-उत्तरों का संग्रह
PDF File Size – 6 MB
Total Page – 15
---
अधिक जानकारी के लिए आप हमसे संपर्क कर सकते है... +919610571004 (☎ & WhatsApp)
---
---
More Notes...
B.Ed Lesson Diary Biology Notes CBSE Notes
Chemistry Notes कम्प्यूटर नोट्स Current Affairs
E-Books Economics Notes Education News
English Notes Geography Notes Govt Jobs
Govt Exam Notes Hindi Notes History Notes
indian Army Notes Maths Notes Model Paper
NCERT Notes Physics Notes Police Exam Notes
Politics Notes Old Papers Psychology Notes
Punjabi Notes RAJ CET Rajasthan Geography
Rajasthan History Science Notes RBSE Notes
REET, 2nd,1st Grade RS-CIT RAS,UPSC,IAS Exam
10th & 12th Notes Syllabus UGC-NET Notes